Main content starts here, tab to start navigating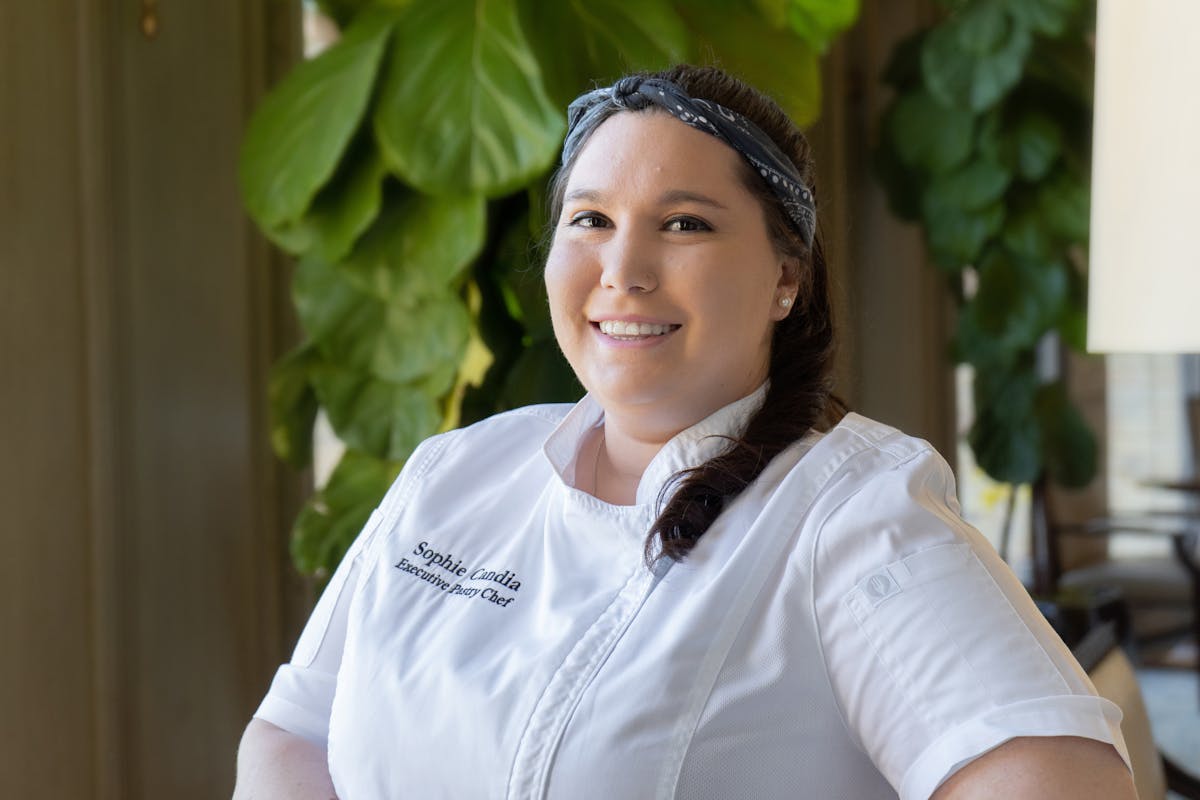 Sophie Candia
Executive Pastry Chef
"I've got the best of both worlds: The best team I've ever had, and an Executive Chef who wants us to create things that are as unique as possible."
Employment History: Waldorf Astoria, Scottsdale, Arizona; Arizona Biltmore, a Waldorf Astoria Hotel, Phoenix; The Country Club at DC Ranch, Scottsdale; Park Hyatt Beaver Creek, Avon, Colorado
Birthplace: Buenos Aires, Argentina
Education: Master's Degree, Advanced Pastry & Bakery Techniques and Luxury Desserts, Ott College, Acassuso, Argentina
Languages spoken: Spanish, English
"The door is wide open for us to push boundaries," says Sophie Candia of the opportunity she has to be as creative as she likes as Executive Pastry Chef of The Las Colinas Resort. And creative is what she likes to be. "I've got the best of both worlds: The best team I've ever had, and an Executive Chef who wants us to create things that are as unique as possible. Basically, he told me, 'If it's unique and delicious, do it.'"
Candia oversees the production of desserts and bakery items for outlets including the Resort's signature dining experience LAW, its sister lounge Outlaw Taproom, and seasonal Agave Bar & Grill by the pool. She also fashions full-scale offerings for in-room dining, everything from fingertip confections to towering wedding cakes for banqueting, and sweet amenities for guests to enjoy in various settings and for various moments throughout their stay.
Keen to regional tastes, Candia takes inspiration from local and seasonal ingredients and the preferences of guests, striving to ensure they'll find her pastries are approachable, whatever flourishes she may add. She also likes to put her own spins on flavors that people know and elevate them by, as she puts it, "playing with the ingredients to give everything an extra something."
One offering that she created for summertime at Outlaw Taproom, for instance, is a peach cobbler mousse with a sweet tea sorbet that she takes over the top with almond cake croutons and fresh micro basil leaves. She calls the choice of ingredients "simple, but totally unexpected."
Candia's team of a dozen or so keeps the pastry kitchen humming through the day, with bakers arriving early and the banquet finishing team staying late. She taps more than their technical skills, relying on them for ideas, opinions, and even critiques. In turn, she is there for them when they run into challenges, something she calls "essential" to shaping success in pastries.
"I like to hear what people are struggling with and be able to guide them in working through it. Finding the fixes to problems is how skills advance. When they really dive right into something, the sky's the limit."
Hailing from Buenos Aires, Candia grew up inspired by her family, the city, and the amazing food for which Argentina is well known. Well, most of it, anyway. "Pastries in Argentina tend to be good, but there isn't much variety," she recalls, noting that though she decided early to pursue a culinary career, the pastry route never interested her. "I steered in a different direction because I didn't want to bake cookies for a living."
Looking back, however, she realizes she just hadn't seen enough. About a month into culinary school just north of Buenos Aires, a pastry professor opened Candia's eyes to the beauty of the pastry kitchen and offered her a scholarship to work in a pasty shop he was about to open. His "passion and elegance" made her a believer, she remember, and she never looked back.
After graduating with a Master's in advanced pastry and baking techniques and luxury desserts, Candia was advised to take her talents to hotels because their culinary programming tends to be well rounded. Following a start in her home country, she moved on to luxury hotels in vacation hotspots in the American West, eventually landing in Scottsdale, Arizona, where she oversaw the pastry operation for nine outlets.
Now in the groove and feeling right at home in Dallas, Candia admits the Resort keeps her busy, but she has no complaints. "When I do get some downtime, I love spend it just going out for a walk or sitting underneath a tree by a lake with coffee and a good book." What, no pastry? "I try not to think too much about pastries away from the kitchen," she says with a laugh. "If there is a pastry, it'll be savory."