Main content starts here, tab to start navigating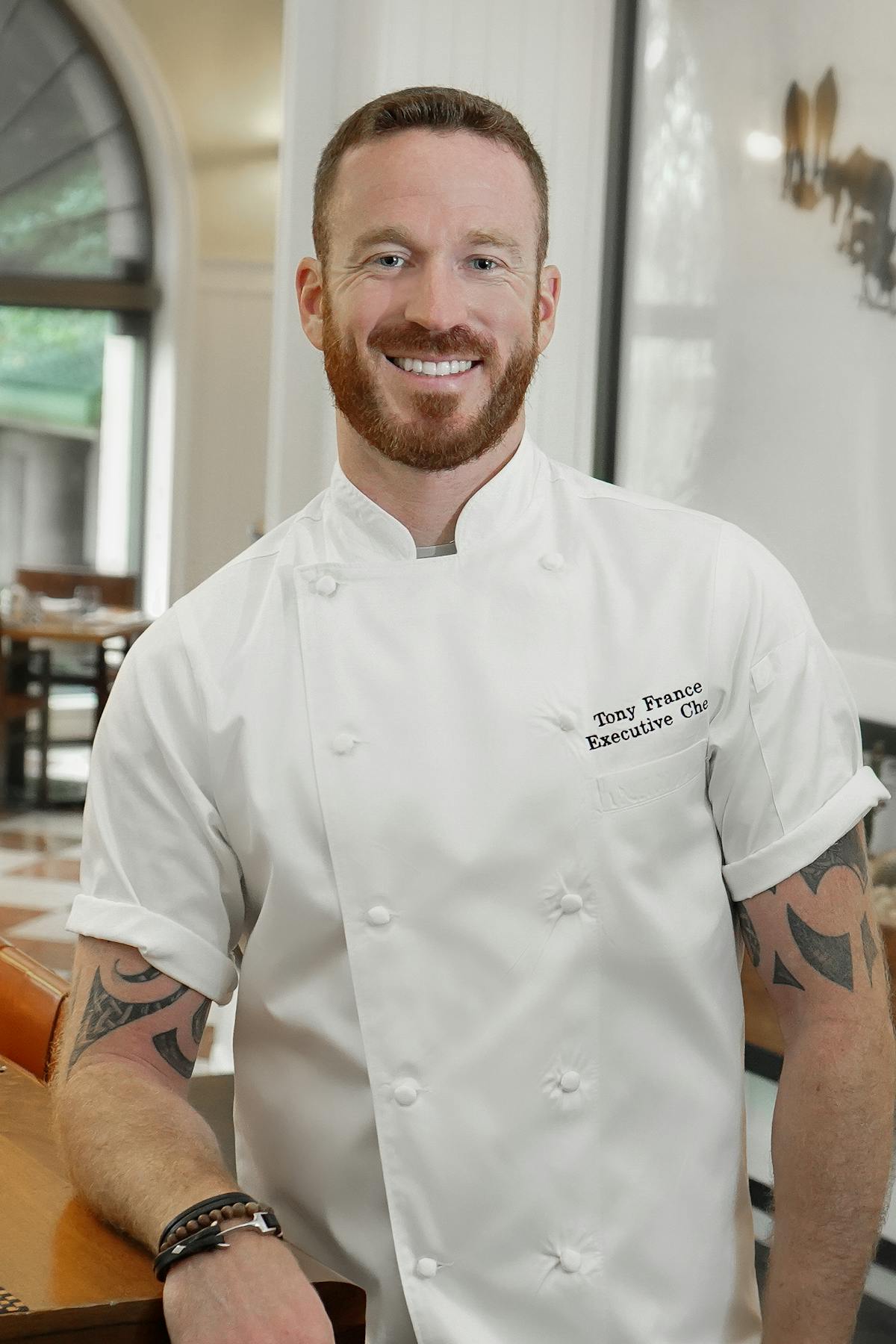 Tony France
Executive Chef
"When we are able to tell a guest that the beef they're ordering was locally sourced and raised on a pasture down the street, that's a big part of the experience."
Employment History: The Ritz-Carlton Bacara, Santa Barbara, California; JW Marriott Desert Springs Resort & Spa, Palm Desert, California; The Ritz-Carlton, Marina Del Rey, California; Andaz West Hollywood, California; Hyatt Regency Santa Clarita, Valencia, California; The Magic Castle, Hollywood, California
Birthplace: Los Angeles, California
Education: Associates Degree with Honours, Le Cordon Bleu, Pasadena, California
Languages spoken: English
"My goal is to make this property a destination where people want to come just to experience the food and beverage," says Tony France of his role as Executive Chef at The Las Colinas Resort, adding quickly, "I'm excited about it every day."
As the first new head of the kitchen in Las Colinas in more than two decades, France has a lot to be excited about. The expansive property includes four restaurants and bars, private dining, in-room dining, and 84,000 sq. ft. of meeting and event space for hosting everything from grand wedding and galas to corporate conferences. The Resort's signature restaurant, LAW (which stands for Land, Air, and Water) is the perfect symmetry of Texas meats, poultry and seafood using the finest ingredients with bold flavors. Its saloon-style sibling, OUTLAW Taproom celebrates Lone Star State music legends with bourbon, burgers and local beer.
Rather than make sweeping changes, France approached the menus delicately with an eye on lightening up dishes, focusing on seasonality and dazzling with luxury touches such as condiments from France. "My style is simple cooking executed flawlessly," he explains, noting that good stories go a long way toward making it mouthwatering at the table. "When we are able to tell a guest that the beef they're ordering was locally sourced and raised on a pasture down the street, that's a big part of the experience."
So, too, is France's presence in the dining room. "One thing I love most about this industry is meeting people who are excited as I am about food – I love building relationships." His technique is as much about listening as talking, but they're only part of customer-relations equation. "The other is bragging," he says, laughing, but in all seriousness. "Sharing all the innovative things we're doing is part of the job."
Another part is building and managing a team. France considers himself fortunate to have many experienced hands in the kitchen, as well as enthusiasm for taking menus as far as they can go. Descended from teachers, he gets satisfaction out of developing the talent, with a goal of not settling for what people think they're doing well. "I want to push them beyond their boundaries so they can see what else they're capable of.
He pushes himself, too. "I'm super-high energy in the kitchen all day, but I'm also very organized. I like to set clear expectations and guidelines, and then give everyone a frame to paint a work of art with their own creativity."
Los Angeles born, France was raised by his mother and her parents in Tujunga in the San Fernando Valley. He called his grandfather "Dad" and spent a lot of time with him in the kitchen. "He did all the shopping and cooked every night. I always loved trying his new dishes – crazy vegetables, rabbit, duck, ossobuco." He was Sicilian, and every Sunday the house would wake to "marinara on the stove and Frank Sinatra in the air."
France recalls special holiday celebrations – especially Christmas. "We'd go to a luxury hotel in Pasadena that had a four-foot tall gingerbread house and Caesar Salad made tableside." He remembers being swayed by the ambiance. "I wanted to be part of that kind of luxury. Not in the front-of-the-house – in the back."
After briefly studying business, France convinced his parents to let him follow his dream to culinary school where he graduated with honors. He started in the kitchen of a private club in Hollywood, then moved onto hotels, eventually landing at a luxury address in Santa Barbara where he rose to executive sous chef overseeing six outlets. When time felt right for a change, he focused on Arizona and Texas. The latter won out.
With his goal of reaching Executive Chef by age 30 now achieved and his family settled in Fort Worth, France is delighted to be working with a General Manager with a food and beverage background, as well as serving clientele who are open to trying new things.
"Texas is Texas, and meat is the dish, but there are other ways I can tempt them," he says, mentioning playful amenities he has imagined such as a pastry shaped like an oil rig surrounded by chocolate coals. "That's Black Gold! Cultural, trendy, and Instagrammable all at once."