Main content starts here, tab to start navigating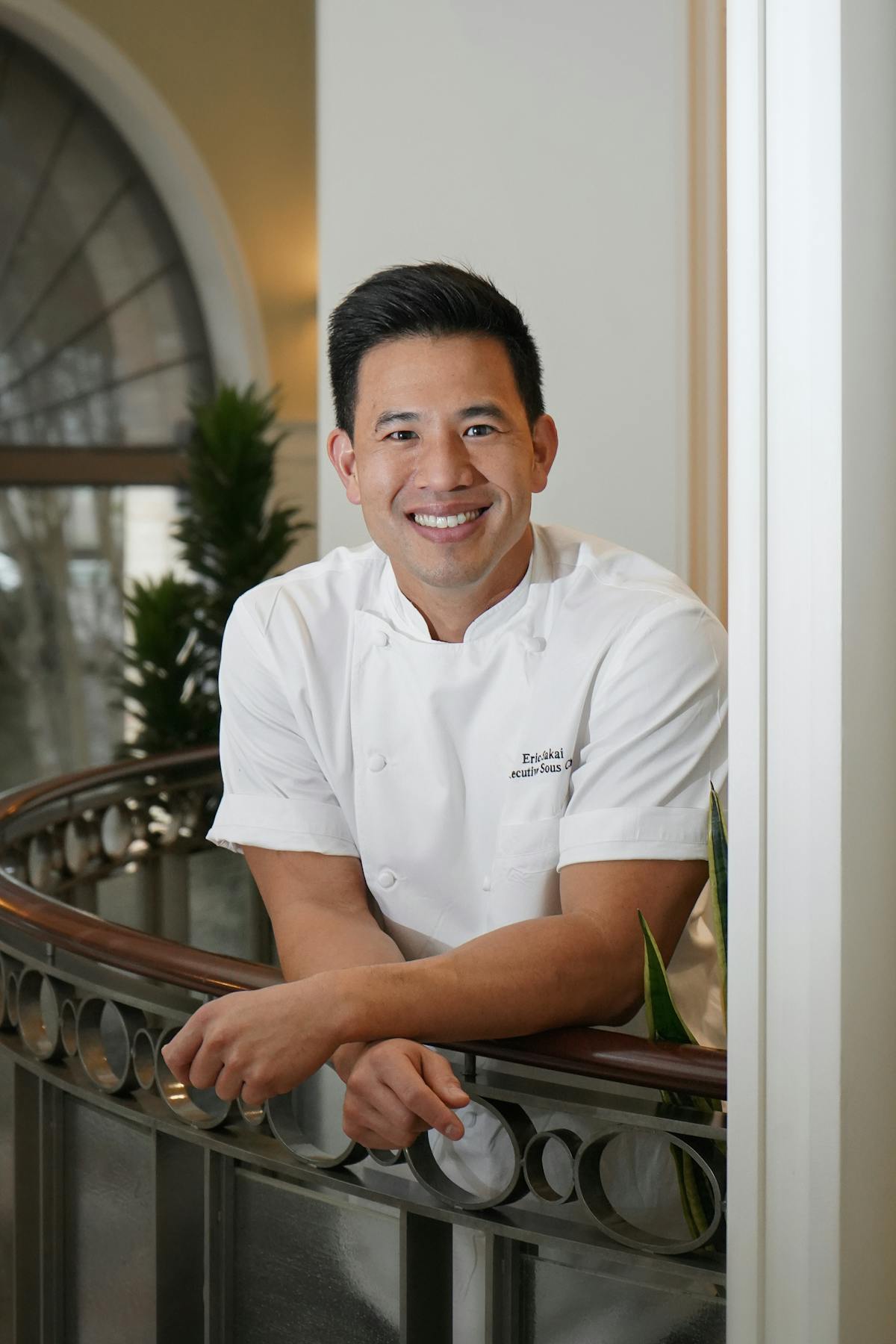 Eric Sakai
Executive Sous Chef
"Being an Executive Sous Chef is not about me showcasing what I bring to a kitchen, but about aiding our chefs in expanding their vision, sharpening their focus, and moving their cuisine forward."
Employment History: Utility, Jackson Hole, Wyoming; The Phoenix and the Dragon, Jackson Hole; Restaurant Marron, Seattle; Four Seasons Resort and Residences, Jackson Hole; Acquerello, San Francisco; Rubicon, San Francisco; Kapi'olani Community College, Honolulu;
Birthplace: Honolulu, Hawaii, USA
Education: Culinary Institute of America, Hyde Park, New York
Languages spoken: English
Having done it all on the independent restaurant scene, Eric Sakai now finds himself doing whatever it takes to create exquisite dining experiences for guests of The Las Colinas Resort. "I'm the oil that keeps the place moving," he explains of his role as Executive Sous Chef. "We have very talented chefs at each outlet, but everyone can use guidance and direction now and then. My job is to keep the restaurant running as required in the moment. I always make myself available to lend assistance when necessary."
There are plenty of places for Sakai to land. Agave Bar and Grill serves all-American favorites poolside in summertime; the Resort's signature restaurant, LAW, fashions fresh ingredients from the land, air and water of Texas into bold flavours and experiences; and the saloon-style OUTLAW Taproom celebrates Texas musical legends with bourbon, burgers and local beer. There is also in-room dining and a bustling banqueting operation catering to groups through nearly 85,000 square feet of event space.
Constantly moving between outlets, Sakai contributes creatively, if only by helping out. "Being an Executive Sous Chef is not about me showcasing what I bring to a kitchen, but about aiding our chefs in expanding their vision, sharpening their focus, and moving their cuisine forward."
The great thing about the culinary industry is that success comes from developing and evolving, he continues. "Everyone at a restaurant has the opportunity to hone their craft every day, and the best way to do that is to be open to learning from those around you. No job supersedes another, and each ingredient adds a different chorus in the symphony. That steak is no more important than a dollop of mayonnaise or the utensils we set on the table."
Sakai travelled a long road before making his way to Dallas. Born and raised in Honolulu, Hawaii, his parents insisted that he get a job at the age of sixteen, so he started working at a Mexican cantina. Finding his rhythm soon enough, he graduated to a French restaurant. Even still, he planned on going to college to study sports medicine, but a suffered a severe injury that took a year from which to recover. So instead of sports medicine, he took a "deep dive" into cooking and shifted his focus back to what he knew.
With a turn at another French restaurant and help from a classically trained mentor, he earned entrée into the Culinary Institute of America in Hyde Park, New York. He spent his down time doing unpaid stages at well-known restaurants in the Big City to further his technique.
After graduation, he headed to San Francisco to work first at the late, great Rubicon, which earned a Michelin star during his tenure, and then with Suzette Gresham at Acquerello, which earned two Michelin stars while Sakai was on the team. "She has had the largest impact on my career thus far," he remembers of being steeped by Gresham in the culinary traditions of Italy. "Suzette was an excellent teacher who took time to connect and share her love of Italian cooking with everyone."
In 2006, Sakai joined Four Seasons Jackson Hole as a Sous Chef, satisfying his wanderlust for the great outdoors and getting his foot in the door of the company. After a few years, he had an opportunity to open a restaurant with his wife Zarina in the hipster enclave of Belltown in Seattle. "We cashed in our 401Ks, racked up our credit cards and went for it." Less than a year after opening, he got a call from Food & Wine magazine to find he'd been named People's Best New Chef, Northwest and Pacific region. "That was extremely rewarding."
So rewarding, he took his talents back to Wyoming to open an Asian-inspired restaurant mirroring the culinary traditions he'd grown up with in Hawaii. After one more go with his own food-preparation company, he decided to relocate to Dallas, where he happened to see an ad for his current role.
Meantime, Dallas is just what Sakai had hoped. A certified CrossFit trainer, he is "always outdoors" pumping up his pulse one way or another, and local restaurants offer much to experience. "The more connections I make on the scene here, the better I can do my job."